Welcome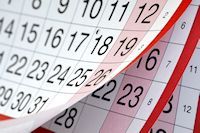 Thank you for visiting iCalendar.org. This site is devoted to promoting the iCalendar standard, an open standard for exchanging calendar and scheduling information between users and computers. On this site you will find iCalendar resources, an iCalendar validator and specifications for iCalendar and related protocols in an easy to use layout.
This site was created by Z Content, a developer of iCalendar tools for the Joomla Content Management System. It is hoped this site will help foster the use of iCalendar and open standards.
iCalendar Validator Available
The iCalendar Validator provides developers and testers a method to validate their iCalendar feeds, which takes data from a URL, file or text snippet and compares it against the RFC 5545 specification. We believe we have one of the best validation tools available on the internet. More information about the validator can be found here.